The Spirit Alive Praise & Worship Experience is a place for those who are unable to attend a local church, those who have been hurt by others in the church, or those who do not have a church home can come and hear a word from the Lord. There's no fashion shows, appreciations, offerings, or meetings, all we offer is Jesus, Jesus, and More Jesus!
Message: The Tools We Us When Our Harvest-Field Becomes A Battlefield: There may come a time when you feel all alone. You are facing an attack and all of your "brethren" seem to have left you to fend for yourself. What do you do when this occurs? Stand… Fight! …Trust in God to see you through! II Samuel 23:11-12 and 2 Corinthians 10:1- 5.
To be a part of this service each Sunday @ 9:00 (PST) simply call 714-364-4337, or for more information visit
www.noboundsministries.org.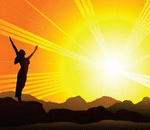 Posted By: Lila Robinson
Sunday, June 1st 2014 at 7:05PM
You can also
click here to view all posts by this author...