The Spirit Alive Praise & Worship Experience is a place for those who are unable to attend a local chuch, those who have been hurt by others in the church, or those who do not have a chuch home can come and hear a word from the Lord. There's no fashion shows, appreciations, offerings, or meetings, all we offer is Jesus, Jesus, and More Jesus!
"Christ Was Crucified On The Cross, But He Died In The Garden." It was not by coincidence that we see the conversation that Jesus had with His disciples in Luke 9:23 demonstrated in the Garden, because I believe Christ did, and does all things as an example for us of what is pleasing to the Father. Jesus said, "If anyone desires to come after Me, let him deny himself and take up his cross daily. And let him follow Me." Read Luke 9:21-23 & 22:39-42, and join us as we look at the power in dying to self, and totally submitting to the will of God.
Join us for worship every Sunday at 9:00 AM (PST) on Blog Talk Radio or visit
www.noboundsministries.org
for more details.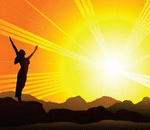 Posted By: Lila Robinson
Sunday, June 1st 2014 at 4:52PM
You can also
click here to view all posts by this author...