The Spirit Alive Praise & Worship Experience is a place for those who are unable to attend a local chuch, those who have been hurt by others in the church, or those who do not have a chuch home can come and hear a word from the Lord. There's no fashion shows, appreciations, offerings, or meetings, all we offer is Jesus, Jesus, and More Jesus!
Message: A Woman's Worth: The Bible is full of words of encouragement which show how God values women. The world may put you down, but God lifts you up. The world may expect the impossible, but God comes to you with grace and a heart that accepts you for who you are, and He has a special place in His plan for the world. Romans 16:1-16 and Proverbs 31:10 -31
Join us for worship every Sunday Morning at 9:00 AM (PST) - 12:00 PM (EST) on Blog Talk Radio. Be a part of a live service simply by calling 714-364-4337, or visit
www.noboundsministries.org.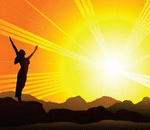 Posted By: Lila Robinson
Sunday, June 1st 2014 at 6:10PM
You can also
click here to view all posts by this author...