The Spirit Alive Praise & Worship Experience is a place for those who are unable to attend a local chuch, those who have been hurt by others in the church, or those who do not have a chuch home can come and hear a word from the Lord. There's no fashion shows, appreciations, offerings, or meetings, all we offer is Jesus, Jesus, and More Jesus!
GOD'S HEROES OF FAITH STILL SPEAK: Hebrews 11 provides us with a list of some of Godís past heroes. They were ordinary people who were used by God. Everyone can be a hero, one of Godís heroes. Listen as I share with you what it takes to be a true hero, a Christian hero. You see, a Christian hero is not some superman, endowed with a myriad of abilities and talents. It is an individual who is willing to believe Godís Word, commit himself to Godís Will, and devote himself to Godís Work.
Join us for service ecery Sunday Morning at 9:00 AM (PST) -12:00PM (EST) on Blog Talk Radio by calling 714-364-4337, or visit
www.noboundsminitries.org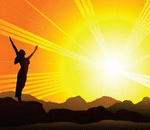 Posted By: Lila Robinson
Sunday, June 1st 2014 at 6:53PM
You can also
click here to view all posts by this author...