TAKING IT TO THE STREETS is dedicated to bringing you anointed preaching and teaching from some of God's finest. We are not interested in gossip, trends, or the latest and greatest in the entertainment business, but we are dedicated to bringing the word of God in application in order to bring about transformation in the hearts and minds of men.
This week I am joined by Pastor Heriberto "Hery" Alonso is a licensed ordained minister, author, evangelist, inspirational speaker, life-coach (health-mind-relationships) and graduate of Alpha & Omega Bible Institute. Hery acquired a Bachelor's degree in Business Administration from Florida International University. He says his parents were instrumental in bringing him into the ways of the Lord.
When he was nine years old, he accepted Jesus Christ as his Lord and Savior and was baptized seven years later. During his 20s, Hery went through a 12-year-period of backsliding and spiritual disconnect. He says it was this separation from God that caused him a lot of unnecessary turmoil and lack of peace. After repenting, he re-dedicated his life to Christ and returned to the ways of the Lord at the age of 34.
His first book, titled, 'Blessed, Balanced & Complete,' is based on his own life experiences and teachings from the Bible.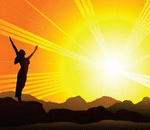 Posted By: Lila Robinson
Tuesday, November 18th 2014 at 9:40AM
You can also
click here to view all posts by this author...